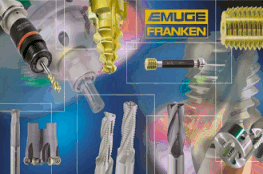 EMUGE-WERK Richard Glimpel GmbH & Co. KG
Fabrik für Praezisionswerkzeuge
Nuernberger Strasse 96 - 100
91207 Lauf an der Pegnitz
Germany

Additional information about EMUGE can be found at www.emuge-franken-group.com.
EMUGE-FRANKEN is and has been a leading company association in the field of threading, clamping and milling technology on a worldwide scale - for over 80 years. Approximately 950 employees develop, produce and distribute top quality tools "Made in Germany" throughout the world.
Our range of tools that consists of approximately 110.000 articles, covers a spectrum that leaves nothing to be desired. CNC machinery allows both companies to manufacture standardized as well as specialized tools using state of the art techniques. Extensive testing and control procedures during all stages of the production process guarantee constant quality.
We are always close by, easy to contact and are able to react to our local customers demands, due to our marketing and distribution organisation and its presence in 42 countries world-wide.
EMUGE has been using Lotus Notes R5 as Groupware for approximately 1 year. As Notes only offers scarce printing functionality, we soon went on the lookout for a product that would enable us to comfortably print our documents in our company specific layout. Our search lead us to NotesToPaper®.
EMUGE is using a Notes R5 based document management system (DMS) which contains all types of full-text-indexed documents, from DIN (Deutsches Institut für Normung e.V. - the German Institute for Standardization) norms and works standards up to and including the quality management documentation. All employees that do not have direct access to the DMS (e.g. employees concerned with the production), require an easy to use print functionality.
By using the NotesToPaper designer, every document type has its own print layout. In a second step the fields of the print layout are linked to the Notes fields (programming).
The end user never sees NotesToPaper as it stays in the background, he or she simply has to click the "print" button in order to create a paper document.
As a sample document, you will see our "process datasheet" which is used to describe the internal processes for the QM documentation. The process datasheet contains an image (comany logo), tables (process description and footer) and text fields.

The article published here does not constitute the opinion of the SoftVision Development GmbH, but that of our customer. The copyright for the article and all information contained herein, as far as such information is protected by copyright laws, is strictly property of the author, with the obvious restriction that the author, by releasing his article, has authorized the SoftVision Development GmbH to permanently make this article available via our presence in the world-wide-web. Publication of this article by third parties is however, subject to prior approval by the author.