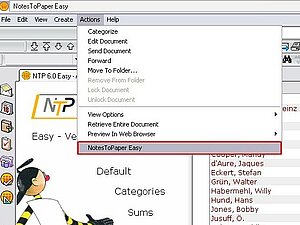 NotesToPaper Easy is a dialog-controlled ad hoc reporting tool. It allows the Notes user to simply and quickly print and/or export from any database view.
NotesToPaper Easy is integrated into the Notes actions menu of the Notes client. From there a user can access the various reports directly in the Notes front end. NotesToPaper Easy provides reporting power to end-users that do not have a deeper knowledge of Notes.
NotesToPaper Easy takes an existing database view and converts it to a report, without making other steps by the user necessary. This "auto-report" is automatically available for every view.
In addition, the user has the option to change the report according to his own requirements. Derived from the "auto-report" the user can simply change the report by using a "point & click" interface. In addition, NotesToPaper Easy offers an intuitive and easy to use layout designer.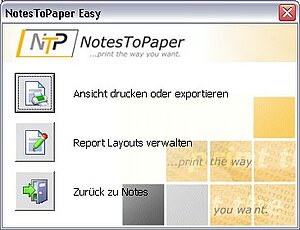 From a simple phone list or a list of addresses up to the evaluation of log databases of the Domino server - NotesToPaper Easy delivers quick and attractive results.
And not only for preview or for print - NotesToPaper Easy can export your reports to different output formats:
PDF, XLS, XML, ASCII, RTF, HTML, BMP, JPEG, EMF, (M)TIFF
And let's not forget lables - based on more than 1000 predefined lable formats, lable printing from Notes becomes childs play.
As you can see, there are many applications for NotesToPaper Easy.