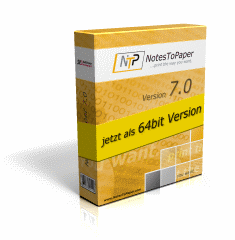 The old one out, the new one in - that's quite simple...

This is not to instigate a family dispute, but rather the conclusion that one also has to part with the best things in life someday - even if it is the cherished 32bit Domino environment - as the new one - because 64bit - much better fits into the existing architecture. And while you're at it, just go ahead and continue with NotesToPaper.

The new version of NotesToPaper has been optimized especially for the server. But to achieve optimal results, it is important to detect any possible bottlenecks. That is why we rely on the new 64bit technology in our new version 7 of NotesToPaper.

Of course, that is not the only reason why you should update to the new version of NotesToPaper - further features in the new version can be found here.